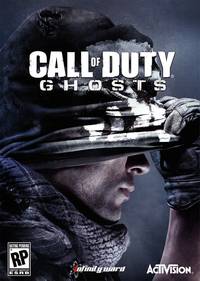 Call of Duty: Ghosts je puca?ina iz prvog lica razvijena od strane Infinity Ward-a u saradnji sa Raven Software-om koji su asistirali kod multiplejera, a u izdanju Activision-a. Ovo je ?ak deseta (kakav jubilej, koliko je tu para namla?eno) igra u Call of Duty serijalu, a šesta pod Infinity Ward-om.
Protagonisti igre su Ghosts (Duhovi), deo Ameri?ke jedinice za specijalne operacije, obu?eni da izvršavaju tajne misije iza neprijateljskih linija. Duhove vodi penzionisani kapetan Elis Voker. Pored njega su sinovi Logan i Dejvid, zatim But i Neptun, kao nema?ki ov?ar Rajli, ?ije je prisustvo toliko reklamirano do izlaska igre. Kao da je nekome interesantno da igra kao pas.
Nasuprot ove patriJotske družine su Almagro i Rork, vo?e južnoameri?kog saveza po imenu Federacija.
Radnja Call of Duty: Ghosts je smeštena u alternativnoj realnosti, nakon nuklearne katastrofe koja je uništila Bliski Istok. Zemlje Južne Amerike bogate naftom se udružuju kako bi formirale Federaciju kao odgovor globalnoj ekonomskoj krizi i ubrzo postaju svetska velesila, hitro pokoravaju?i Centralnu Ameriku i Karibe. Tek sada vidimo, dragi naši koki?ari, da ameri?ke invazije zemalja bogatih naftom u poslednjih 20 godina nisu imaje za cilj ništa drugo nego da spre?e baš ovakav scenario, koji se, avaj, ipak dogodio, iako samo u igri.
Elem, da ne dužimo, Federacija tu zakuca na vrata Ujka Semu, Ujka Sem tu pošalje Ghosts, koji uz vašu pomo?, bilo kao ?ovek, bilo kao pas, razvale guzice uzurpatorima slobode i uvedu im demokratiju na velika vrata. Klasika.
Call of Duty: Ghosts je osrednje ocenjen kod publike i kritike sa ocenama izme?u 6 i 8. Deluje kao dosta neoriginalan nastavak, ali probajte pa prosudite sami. Call of Duty: Ghosts nema ni 29 giga.
---
Trejler:
---
---
Gameplay:
---
---
Skrinšotovi:
---
---
Info:
---
Naziv: Call of Duty: Ghosts
Žanr: Puca?ina iz prvog lica
Razvojni tim: Infinity Ward
Izdava?: Activision
Linkovi: Official Site – GameSpot – IGN
Sistemski zahtevi: Proverite ovde

---
Skini besplatno:
---
Naziv: Call.of.Duty.Ghosts-RELOADED
Veli?ina: 28.6 GB
Torrenti: Direct – Magnet – Torrage – Torcache – Zoink

---
Uputstvo za instalaciju:
---
1. Unrar.
2. Burn or mount the image.
3. Install the game.
4. Copy over the cracked content from the /Crack directory on the image to your game install directory.
5. Play the game.
Prijavi Neispravne Linkove