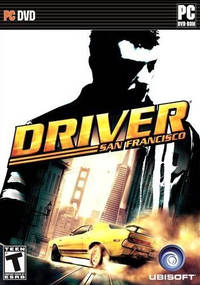 Driver: San Francisco obeležava povratak popularne serije video igara, Driver, koja se do sada prodala u (blago) impresivnih 14 miliona kopija širom sveta. Igra?i ?e imati priliku da se okušaju kao Džon Tener u nemilosrdnom lovu na krimi bosa ?arlsa Džeriha kroz brda Grada pored zaliva. Zahvaljuju?i revolucionarnoj novoj karakteristici igre u Driver: San Francisco-u, igra?i sada mogu da bez problema menjaju izme?u preko stotinu vozila, što ?e ih konstantno držati u samom srcu akcije. Sa svojim bezvremenskim setingom, jedinstvenim ose?ajem upravljanja automobilima i ispoliranom igrivoš?u, Driver: San Francisco cilja da revitalizira klasi?no iskustva slobodnog švrljanja gradskim ulicama, kao i ludih jurnjava kolima, na svim trenutnim gejmerskim platformama.
---
Trejler:
---
---
Gameplay:
---
---
Skrinšotovi:
---
---
Info:
---
Naziv: Driver: San Francisco
Žanr: Sandbox, Akcija, Vožnja
Razvojni tim: Ubisoft Reflections
Izdava?: Ubisoft
Linkovi: Official Site – GameSpot
Sistemski zahtevi: Proverite ovde

---
Skini:
---
Naziv: Driver.San.Francisco-SKIDROW
Veli?ina: 7.46 GB
Netload: Netload DLC
(DLC fajlove prevu?i u Linkgrabber tab u JDownloader-u ili ih dodati koriste?i Add Container dugme.)
Torrenti: Direct – Torrage – Torcache – Zoink – TPB – KAT

---
Uputstvo za instalaciju:
---
1. Unrar.
2. Mount or burn image.
3. Install.
4. Run the update from the UPDATE folder on the DVD.
5. Copy everything from the SKIDROW folder to the game installation folder and overwrite.
6. In C:\Users\USERNAME\AppData\Local\Ubisoft\Game Launcher (WinXP: C:\Users\USERNAME\Local Settings\Application Data\Ubisoft\Game Launcher) delete settings.yml before you start the game for the first time.
7. Play the game.
Prijavi Neispravne Linkove