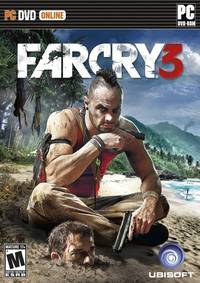 Tražili ste, igraćete.
Far Cry 3 je pucačina iz prvog lice sa RPG elementima kao što su experience poeni, stablo skilova i sistem kraftovanja. Igrač ima mogućnost da se sakrije iza oblekata kako bi izbegao neprijatelje, kao i da proviruje iza istih i puca na slepo. Takođe postoji mogućnost tihih eliminacija koristeći borbu prsa u prsa napadajući odozgo, odozdo ili od pozadi. Far Cry 3 je, kao i prethodnici, open-world igra sa ogromnim prostranstvima koja se mogu istražiti. Igrači imaju mogućnost da izvide i planiraju svoje napade kombinovanjem tihih eliminacija, kao i da obeležavaju neprijatelje kamerom, kako bi mogli da prate njihovo kretanje i onda kada ih ne vide.
Far Cry 3 takođe ima i gomilu side-quest-ova kao što su lov na divljač koja inače nije dostupna za vreme glavnog toka radnje, radi unapređivanja skilova i opreme.
Radnja igre prati Džejsona Brodija, koji je na odmoru sa grupom prijatelja na tropskom ostrvu u Pacifiku. Ekipa se odlučuje da proba skakanje sa padobranom i kada nesrećnim slučajem slete na piratsko ostrvi zarobljava ih poratski vođa po imenu Vas. Vas planira da iznudi novac za otkup, te da ih proda u roblje. Iz pomoć svog starijeg brata Granta, Džejson uspeva da pobegne. Šta će dalje biti saznaćete sami.
Far Cry 3 je kod publike i kritike jednoglasno sjajno primljena i navođena kao možda najbolja open-world igra ikada napravljena, te stoga nemojte nikako propustiti da je probate. Prijatno.
Naravno, ko kaže da kasnimo, majka mu nema kosu.


---
Trejler:
---
---
Gameplay:
---
---
Skrinšotovi:
---
---
Info:
---
Naziv: Far Cry 3
Žanr: Pucačina iz prvog lica, Akciona avantura, Open World
Razvojni tim: Ubisoft Montreal
Izdavač: Ubisoft
Linkovi: Official Site – GameSpot
Sistemski zahtevi: Proverite ovde


---
Skini besplatno:
---
Naziv: Far.Cry.3-RELOADED
Veličina: 9.64 GB
Torrenti: Direct – Magnet – Torrage – Torcache – Zoink
Naziv: Far.Cry.3.Update.v1.04-RELOADED
Veličina: 319 MB
Torrenti: Direct – Magnet – Torrage – Torcache – Zoink

---
Uputstvo za instalaciju:
---
1. Unpack.
2. Burn or mount the image.
3. Install the game.
4. Run the 1.01 patch included in the Crack dir.
5. Install the 1.04 update.
6. Copy over the cracked content from the Crack dir from Far.Cry.3.Update.v1.04-RELOADED to your install/bin dir, overwriting any existing files.
7. Play the game.
Prijavi Neispravne Linkove