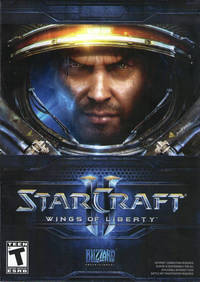 Evo jednog gigantskog naslova. StarCraft II: Wings of Liberty je vojna SF strategija razvijena od strane Blizzard-a (Warcraft, Diablo franšize) i predstavlja nastavak nagra?ivane istoimene igre iz 1998. Starcraft II je podeljen na tri dela, Wings of Liberty i dve ekspanzije koje ?e iza?i kasnije, Heart of the Swarm i Legacy of the Void.
Smeštena u 26. veku u udaljenom delu naše galaksije, radnja igre je fokusirana na tri vrste: Terane, ljude proterane sa zemlje, Zergove, rasu insektoidnih genetskih asimilatora i Protose, vrstu sa ogromnim psioni?kim mo?ima. Wings of Liberty se fokusira na Terane, dok ?e se dve ekspanzije baviti primarno Zergovima i Protosima. Pri?a se odvija ?etiri godine nakon doga?aja u StarCraft: Brood War (ekspanzija za originalni StarCraft) i prati poduhvate Džima Rejnora dok vodi grupu pobuljenika protiv autokratskog Terran Dominion-a. U igru su uklju?eni i novi i stari likovi, kao i lokacije iz originalne igre.
---
Trejler
---
---
Gameplay
---
---
Skrinšotovi:
---
---
Info:
---
Naziv: Starcraft II: Wings of Liberty
Žanr: Strategija
Razvojni tim: Blizzard Entertainment
Izdava?: Blizzard Entertainment
Linkovi: Official Site – GameSpot
Sistemski zahtevi: Proverite ovde

---
Skini:
---
Naziv: StarCraft.II.Wings.of.Liberty-RELOADED
Veli?ina: 7.19 GB
Hotfile: Hotfile DLC1 – Hotfile DLC2
Megaupload: Megaupload DLC
(DLC fajlove prevu?i u Linkgrabber tab u JDownloader-u ili ih dodati koriste?i Add Container dugme.)
Torrenti: Torrage – Torcache – Zoink – TPB
---
Naziv: Starcraft.2.Wings.of.Liberty.PROPER-Razor1911 (samo krek, obavezan)
Veli?ina: 101 MB
Direct: http://bestrepack.net/forum/dn/rzr-scii.rar
Hotfile: http://hotfile.com/dl/58758825/7621168/razor1911.rar
Torrenti: Torrage – Torcache – Zoink – TPB

---
Uputstvo za instalaciju (Razor1911):
---
1) Unrar, burn or mount ISO
2) Install the game while online (or use G8MN8UDG6NA2ANGY6A3DNY82HRGF29ZH
when prompted for an auth key while being offline) and skip the serial
activation prompt later on
3) Update the game online
4) Run Razor1911/SC2_COPY.exe on the DVD to install additional content
5) Run Razor1911/keytro.exe and hit F2 to activate your game offline
6) Enjoy the full single-player experience playing in guest mode
P.S. Owners of legit game keys may use our keytro in just the same
way in order to prolong their offline activation period indefinitely.
Prijavi Neispravne Linkove