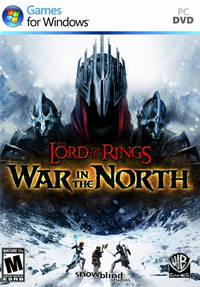 The Lord of the Rings: War in the North je RPG video igra rayvijena od strane Snowblind Studios-a. Zasnovana je na doga?ajima koji se dešavaju u severnim regijama Srednjeg Sveta, u pozadini glavne pri?e iz Tolkinovog Gospodara prstenova, kao i istoimene filmske trilogije Pitera Džeksona. Igra? dobija heroja koga vodi kroz rat i može se igrati solo ili kao co-op sa drugim igra?ima.
Mnoge lokacije koje nisu vi?ene u filmovima pojavljuju se u igri, kao na primer Etenmurs, Fornost, Mirkvud i planina Gundabad. Od ve? vi?enih delova Srednjeg Sveta igra?i ?e mo?i da istraže Bri i Rivendal i interaguju sa nosiocima Tolkinove pri?e kao što su Gandalf, Elrond, Frodo, Bilbo, Legolas, Aruen i Aragorn. Par likova iz knjige, koji nisu u filmovima, kao što su Elrondovi sinovi blizanci, tako?e su prisutni.
The Lord of the Rings: War in the North vam dozvoljava da birate izne?u trojice protagonista: Eradan the Ranger, Farin the Champion i Andriel the Elven Loremaster. Sva trojica se razlikuju po klasama, ali su i sposobnosti svakog fleksibilne i prilagodljive. Standardni PRG elementi su prisutni: ubijanje neprijatelja donosi vam experience, dovoljno XP-a, level up.
The Lord of the Rings: War in the North je kod kritike i igra?a ocenjen od srednjeg ka solidnom, grafika, ako je sude?i po gameplay videu je solidna, tako da fanovima Tolkinovog sveta (a sigurno ih ima gomila) ne preostaje ništa drugo nego da se bace na skidanje.
---
Trejler:
---
---
Gameplay:
---
---
Skrinšotovi:
---
---
Info:
---
Naziv: The Lord of the Rings: War in the North
Žanr: RPG
Razvojni tim: Snowblind Studios
Izdava?: Warner Bros. Interactive Entertainment
Linkovi: Official Site – GameSpot
Sistemski zahtevi: Proverite ovde

---
Skini:
---
Naziv: Lord.of.the.Rings.War.in.the.North-RELOADED
Veli?ina: 4.04 GB
Torrenti: Direct – Torrage – Torcache – Zoink – TPB – KAT

---
Uputstvo za instalaciju:
---
1. Unrar.
2. Burn or mount the image.
3. Install the game.
4. Copy over the cracked content from the Crack dir on the disc to your installation dir.
5. Play the game.
Prijavi Neispravne Linkove