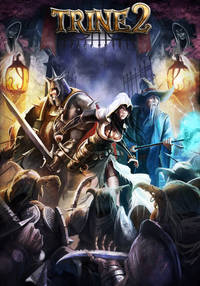 Trine 2 je puzzle platformer igra koja od igra?a zahteva da korisiti veštine tri lika koja kontroliše, ?arobnjaka Amadeusa, lopova Zoje i viteza Pontijusa, da bi prešao svaki od nivoa. Kao i u prvoj Trine igri, misti?ni objekat "Trine" je tri lika stavio u jedan zajedni?ki entitet, pa igra? u jdenom trenutku kontroliše samo jednog od likova. Svaki od likova ima jedinstvene sposobnosti: Amadeus koristi magiju da pomera predmete i stvara kutije koje mu pomažu da se penje, Zoja koristi strele za borbu i kuku na konopcu, a Pontius kao teškaš predstavlja borbenu silu sa svojim ma?em i štitom.
Likovi imaju zasebne health indikatore, pa ako jedan rikne ne može se koristiti do slede?eg checkpoint-a. Ako sve troje "umru", igra se vra?a na prethodni checkpoint. Trine 2 izgleda vrlo lepo i ono malo što sam igrao deluje dosta zanimljivo, dobro je ocenjena i tamo i vamo, nije velika, tako da je definitivno preporu?ujemo za probati. Pogledajte trejler i gameplay klipove i odli?ite. Ko voli platforme verovatno se ne?e pokajati.
---
Trejler:
---
---
Gameplay:
---
---
Skrinšotovi:
---
---
Info:
---
Naziv: Trine 2
Žanr: Platforma, Puzzle
Razvojni tim: Frozenbyte
Izdava?: Atlus
Linkovi: Official Site – GameSpot
Sistemski zahtevi: Proverite ovde

---
Skini besplatno:
---
Naziv: Trine.2-SKIDROW
Veli?ina: 1.27 GB
Torrenti: Direct – Torrage – Torcache – Zoink – TPB – KAT
Naziv: Trine.2.v1.19.Update-SKIDROW
Veli?ina: 2.36 GB
Torrenti: Direct – Torrage – Torcache – Zoink

---
Uputstvo za instalaciju:
---
1. Unpack the release.
2. Mount or burn image.
3. Install.
4. Unpack Trine.2.v1.19.Update-SKIDROW.
5. Install Trine.2.v1.19.Update-SKIDROW.
6. Copy the cracked content from the SKIDROW folder from Trine.2.v1.19.Update-SKIDROW to the main install folder and overwrite.
7. Play the game.
Prijavi Neispravne Linkove